Description
This example creates, saves and refines a simple 2D, two-element mesh with Bilinear Lagrange finite elements.
Basic Concepts
After completing the Mesh module tutorials 1 and 2, you should understand that:

Each node has one or more parameters associated with it, depending on the number of variables and the basis function type(s) chosen
Elements are defined by specifying connections between nodes

After completing this tutorial, you should understand:

How to make and refine two-dimensional tensor-product finite element meshes

Useful points to consider:

In practice, we do not typically type in nodal coordinates for real meshes. We can import nodes and elements from a tab delimited xls file using the import/export/graph button in the node and element editors.
Step-by-step Instructions
The following instructions will guide you in creating the 2D mesh pictured below.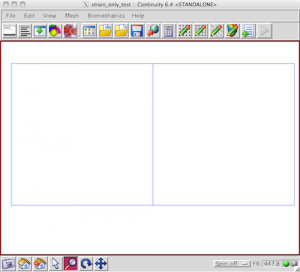 Start Continuity
Create Mesh
Render the Mesh
Click the lines radio button

Click Render to display mesh

Specify a filename to save the model in. The file will be saved as filename.cont6
Refine the mesh four-fold and re-render